Powell's Books
by Mel
Mar 29, 2020 | 0 Votes | 21 Bought | 0 Reviews
-
rate
Powell's Books is an American bookstore chain and online bookseller. It is the largest independent new and used bookstore in the world with a retail and online sales inventory of over 4 million new, used, rare, out-of-print, digital audio, and signed edition books for sale in the US and globally.
Buy Now
Similar Brands
Bought
People Also Bought
Introduction

Powell's Books is an American bookstore chain and online bookseller. It is the largest independent new and used bookstore in the world with a retail and online sales inventory of over 4 million new, used, rare, out-of-print, digital audio, and signed edition books for sale in the US and globally.



What to Buy

There was a time when small and independent booksellers were seriously threatened by giant bookstore chains such as Barnes & Noble and Borders in the 1990s, putting many of them out of business. Then the Amazon juggernaut tore a page out of the chains' books so to speak and not only practically obliterated the brick-and-mortar bookselling business model but completely revolutionized the concept of online shopping.

Ironically, the demise of the bookstore chain resulted in a resurgence in independent booksellers selling rare, alternative, and used titles. And one bookstore that never left the scene is Powell's Books. You can't call yourself a bibliophile if you've never heard of Powell's Books, the largest new-and-used bookstore in the world. Even book lovers who've never been to their renowned Portland, Oregon stores know about them from its ads in erudite publications such as the New Yorker or from its prominent online presence since 1994 (a few months before the launch of Amazon.com).

Powell's philosophy on bookselling is simple: new or used, fiction or non-fiction, mainstream or alternative, dime-store paperback or first-edition hardcover, metaphysics or manga, all are equally at home on Powell's Books shelves.

To search the bookstore's 4+ million titles, simply start with the "Search" field or the Main Menu at the top of their website's pages listing Browse (by Book Categories, New Arrivals, Bestsellers, Award Winners, Digital Audio Books, Signed Editions); Used (which you can filter by Category, Product Type, Format, Price, Awards, Year, Last Received Date, and Pre-Order); and Staff Picks.

Apart from being able to search Powell's for both new and used editions of the usual mass market Bestsellers and recent New Arrivals, it's a particularly good place to find a comprehensive collection of Award Winning titles where you can search for works according to the prestigious awards received such as the Nobel Prize for Literature, Pulitzer Prize, National Book Awards, Man Booker Prize, National Book Critics Circle Awards, Edgar Awards, Hugo Awards, the Newberry Medal, and more.

Powell's Books' expert Staff Picks are also worth checking out to explore books and themes you may never have been aware of and feature regular lists like Picks of the Month, 25 Books to Read Before You Die: 21st Century and Staff Top Fives for (the Year). Furthermore, Powell's offers a limited supply of Signed Editions from some of today's most celebrated authors. The best part: they're available for the same price as a regular edition. Also check out their Signed Pre-orders as well to reserve a signed edition from an upcoming author event.

If you're the adventurous reader type who loves to discover random and unexpected literary gems, then you'll love Powell's Book Club Subscriptions. Indiespensable is their subscription club for adults delivering a curated selection of the best new books from independent publishers. Delivered to your doorstep every six to eight weeks for $44.95 per shipment, each Indiespensable box contains one signed edition of a newly released book, a collector's edition pamphlet featuring original author interviews and Q&As, and surprise gifts that range from advance reader novels to tasty treats (and everything in between).


BOOX, meanwhile, is Powell's subscription picture book club for kids featuring titles selected for their quality illustrations, diverse characters, and creative story lines that are sure to enchant your children. Also delivered every 2 months, each box features one new hardcover picture book, one other hardcover staff favorite, along with other fun goodies.



Highlights

Powell's accepts American Express, Discover, JCB, Master Card, and Visa credit cards as well as PayPal. If you are paying by credit card, your billing address must be the same as the address to which your credit card statements are mailed. Your card will not be billed until we have your books in hand and are ready to ship. US businesses, libraries, or educational institutions ordering regularly by volume may apply to be billed by Powell's Accounts Receivable office for easier, faster transactions.

Free Shipping via Economy Mail is available for orders $50 or more. For all other orders, you can avail of their Flat-Rate Shipping for just $3.99 via Economy Mail (no matter how many books you buy). Deliveries will arrive between 4-9 business days after your order is processed. For Alaska, Hawaii, Guam, Puerto Rico and APO/FPO addresses, Economy Mail shipments can take 3 to 8 weeks to arrive. Powell's also offers Standard Ground, 3 Day Express, 2 Day, and Next Day Air for an extra per shipment and per item fee; as well as international Standard, Expedited, and Express delivery.

All of Powell's new, used, and out-of-print books are in good reading condition — guaranteed. If you're not satisfied, simply return the book in its original condition within 30 days of receipt and they'll credit your account for the full amount of the title (or other merchandise, with exceptions).

With millions of titles on stock, it can be a daunting task to choose the perfect book—or books— to give the bibliophile in your life. Why not give them the gift of choice instead with a Powell's Gift Card. You can either order a Traditional Gift Card (with a $5 minimum value per card) with free standard shipping or send a digital Powell's eGift card via email and have it delivered within hours or on the date of your choosing.

To use your Powell's Gift or eGift card toward a purchase at Powells.com, simply enter the card number (found along the bottom edge of the card's back) into the space provided during the checkout process.

Finally, subscribe to Powell's Newsletter to get updated on new book releases, used book alerts, seasonal promos (such as Buy Two, Get One Free Sales), event and author signing invites, and special offers.



Is It Time to Buy?

As the biggest used-and-new bookstore in the world, Powell's Books strives to promote the free exchange of ideas and provides a welcoming community for readers, authors, and bibliophiles around the globe through the sale of books. Focusing more on quality rather than quantity, with Powell's Books, you're sure to find a wide range of titles to spark your diverse interests.
Powell's Books Blog
by Mel
Mar 29, 2020
Powell's Books is an American bookstore chain and online bookseller. It is the largest independent new and used bookstore in the world with a retail and online sales inventory of over 4 million new, used, rare, out-of-print, digital audio, and signed edition books for sale in the US and globally.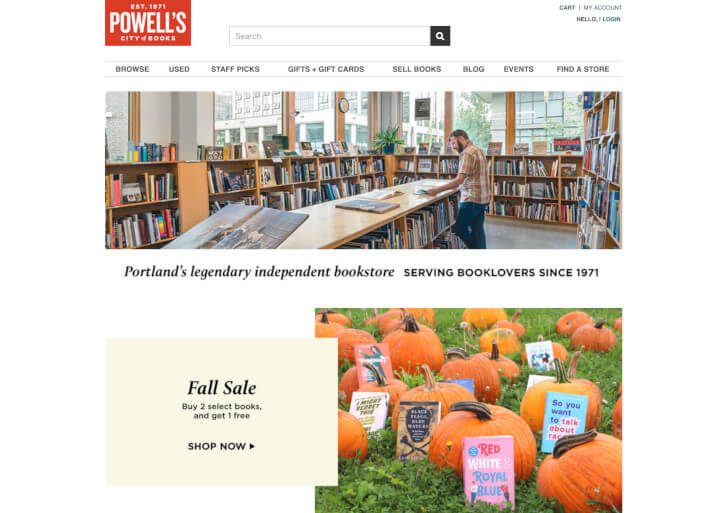 Read More
User Reviews
Please fill in the title and the full review fields
The review text can be a maximum of 10000 characters long
Please rank the brand before submitting your review
The review title can be a maximum of 50 characters long
Featured Brands
The Home Depot One of the most recognizable home improvement brands in the United States, The Home Depot is renowned for offering a wide variety of products, home improvement services, and free DIY workshops and project ideas.
Barnes & Noble Barnes & Noble is the largest bookselling company in the United States. With over 750 retail stores across all 50 states, this company sells a variety of digital media, toys and educational products, gifts, reading aids, art supplies, and more, in addition to a myriad of books.
iStock Photo Owned and managed by Getty Images, iStock Photo is among the world's best source of quality stock content, be it photos, illustrations, videos or audio, at affordable prices.
eBay Along with Amazon, eBay is one of the most recognizable online marketplaces that sell literally anything you'll ever need. Whether it is the latest gadgets, handbags for the ladies, old and collectible VHS tapes, or even travel deals, you can find them all on eBay!
PatPat Established by InterFocus Inc, PatPat is set up with the sole intent of providing quality mom and baby goods at affordable prices. And how they do that? They use the Manufacturer to Consumer model (M2C) – They cut out the middlemen and let you order your products directly from the manufacturers.
Mattel Mattel is one of the biggest brands and companies when it comes to popular children's toys. They own multiple IPs including the iconic brands, Barbie and Hot Wheels. Aside from their own range of toys, they also work with other huge entertainment companies like Disney and DC Comics.
Statistics
Brands798
Articles81
Surveys3
Blog Posts911
Users50
User Reviews0
Find us on Facebook