Blog
by Mel
Mar 31, 2020
Dubai-based The Luxury Closet is the Middle East's biggest luxury marketplace specializing in the buying and selling worldwide of authentic new and pre-owned designer handbags, watches, jewelry, and apparel from luxury brands such as Rolex, Hermès, Louis Vuitton, Cartier, and Chanel.
Read More
by Mel
Mar 31, 2020
Banggood is a Chinese B2C cross-border e-commerce site and app for Android and Apple that sells all kinds of retail merchandise, with a particular focus on consumer electronics, electronic components and tools, and toys & hobbies (such as drones).
Read More
by Mel
Mar 30, 2020
Blue Apron is a meal kit delivery service for busy people with little time to both shop and cook. Offering up to 4 dishes a week, each ice-packed Blue Apron box is delivered to your doorstep and contains all the complete ingredients and recipes for you to prepare a fast, healthy, and delicious meal.
Read More
by Mel
Mar 29, 2020
Powell's Books is an American bookstore chain and online bookseller. It is the largest independent new and used bookstore in the world with a retail and online sales inventory of over 4 million new, used, rare, out-of-print, digital audio, and signed edition books for sale in the US and globally.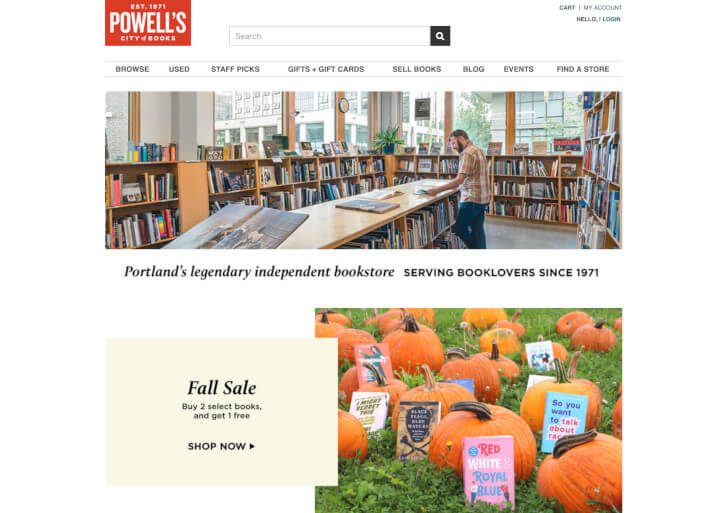 Read More
by Justo
Mar 28, 2020
United Parcel Service (UPS) is a multinational package delivery and supply chain management company that's famous worldwide due to its fast delivery times and excellent customer support. If you need package delivery solutions inside or outside the US, UPS will have some kind of offer that will make it work for you.
Read More
by Mel
Mar 27, 2020
Now—for the first time—ten-time World Series of Poker bracelet winner, and Poker Hall of Famer, and arguably best all-around poker player in the world, Phil Ivey shares his never before disclosed poker strategy secrets in this exclusive 11-lesson MasterClass series!

Read More
by Mel
Mar 26, 2020
Now Foods is an independently-owned natural foods and nutritional supplement manufacturer, distributor, and online retailer. The brand has more than one thousand natural products in their inventory, including vitamins, herbal supplements, essential oils, health & beauty products, sports nutrition, natural food, and pet products.
Read More
by Mel
Mar 25, 2020
Candy Club is an American premium candy subscription box service. Available as a monthly membership or gift subscription, they partner with small candy artisans and candy producers from around the world to offer a unique, top-quality selection of exceptional candies every month.
Read More
by Mel
Mar 24, 2020
Yves Rocher is a French cosmetics and beauty company that is one of the pioneering brands promoting plant-based and naturally-derived products. Starting off as a mail order company, their personal and skin care products, makeup, and perfumes are now sold in boutiques, beauty institutes, and through their regional websites.
Read More
by Aethyna
Mar 23, 2020
Besides winning the Oscars – not once; not twice; but a whooping 8 times for a variety of astounding films, Hans Zimmer is, without a doubt, one of the most creative and influential film composers of our time. Thankfully, with his online class on Masterclass, you can learn from the maestro himself!
Read More
Older Posts
Blog Archive
Featured Brands
The Home Depot One of the most recognizable home improvement brands in the United States, The Home Depot is renowned for offering a wide variety of products, home improvement services, and free DIY workshops and project ideas.
Barnes & Noble Barnes & Noble is the largest bookselling company in the United States. With over 750 retail stores across all 50 states, this company sells a variety of digital media, toys and educational products, gifts, reading aids, art supplies, and more, in addition to a myriad of books.
iStock Photo Owned and managed by Getty Images, iStock Photo is among the world's best source of quality stock content, be it photos, illustrations, videos or audio, at affordable prices.
eBay Along with Amazon, eBay is one of the most recognizable online marketplaces that sell literally anything you'll ever need. Whether it is the latest gadgets, handbags for the ladies, old and collectible VHS tapes, or even travel deals, you can find them all on eBay!
PatPat Established by InterFocus Inc, PatPat is set up with the sole intent of providing quality mom and baby goods at affordable prices. And how they do that? They use the Manufacturer to Consumer model (M2C) – They cut out the middlemen and let you order your products directly from the manufacturers.
Mattel Mattel is one of the biggest brands and companies when it comes to popular children's toys. They own multiple IPs including the iconic brands, Barbie and Hot Wheels. Aside from their own range of toys, they also work with other huge entertainment companies like Disney and DC Comics.
Statistics
Brands1,033
Articles95
Surveys3
Blog Posts1,159
Users54
User Reviews0
Find us on Facebook